The Vystrian Wolf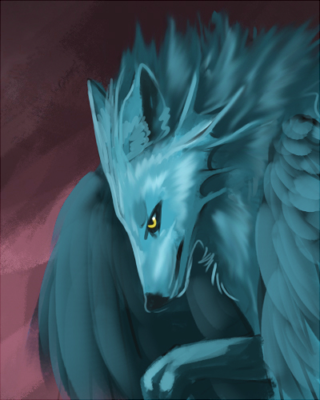 General Information;
The wolf is a creature wreathed in legend - one spoken of in many tales, the embodiment of intelligence, guidance, and inner strength. The Vystrian wolves are a species apart from the norm, granted special powers and unique appearances, with structured packs and refined hierarchies. Each one is granted a spiritual companion, a familiar, to guide them all their life.
Statistics;
Average Lifespan:: 300 years
Average Height:: 3 feet at the shoulder
Average Weight:: 150 pounds.
Location Found:: Originates from Felnova; found abroad.
*all statistics based on averages; extremes in any direction, or found in odd locations, are always allowed.
Notes;
Familiar;; A familiar is an animal companion to a wolf. Given by the wolf god Cirrus at the age of two years, this animal may be anything from a hawk to a mouse to a snake, and is usually smaller than the wolf. These familiars is not a natural animal; it appears in a dream given by Cirrus in spiritual form and manifest in a physical body next to the wolf once it wakes. Familiars have their own abilities, usually something that complements their wolf counterpart`s. They are referred to by their wolf's rank and their personal names (except Vhela and Vhalen; their familiar's title varies by gender, for example Vhalen Shadow for a male, Vhela Whispyr for a female, etc.). A wolf will never hunt the animal that their familiar appears as; such a thing is not only taboo but unthinkable to the wolf in question. They may also have several names depending on the pack that they're a part of; familiar, freya and drienar are all common terms.
Familiars and Death;; Familiars do not die of old age; they may die from battle or of sickness but will otherwise live until the wolf dies. When a wolf loses their familiar, Cirrus may see fit to grant the wolf another, but only one other, and never again. Wolves older than two years will rarely get a familiar. If a familiar dies before the wolf, and then the wolf dies without a spirit-companion to help lead them to the pack's special place on the Soulplane, the wolf has a great chance of becoming on of the Famine to the right.
Famines' Familiars;; In cases where a wolf dies after its familiar and later becomes a Famine, their familiar will usually be reunited with it through the Soulplane once more, though it loses almost all sense of self and acts more like a servant than a companion. These undead companions have a skeletal appearance and glowing eyes similar to their Famine counterpart.
Bloodwolf Familiars: Familiars, drienar and freya are sometimes found granted to bloodwolf individuals; very rarely, and never granted by Cirrus, these are obtained when a blood-alpha grows their power to exponential levels. A soul they once knew may be linked to them once they reach this point, often refered to as the point of no return, and will manifest as a creature best fitting to the bloodwolf's personality. Rarely will these familiars appear as normal animals. More often, they take on the appearance of malformed beasts or monsters, sometimes small dragons, hellcats, snakekind, or death-phoenixes.
Credits;
Species info credited to Blazeh/Verridith and Skyeh.
In-Depth Information;
Appearances;; The Vystrian wolf is very different from the typical wolf in many key ways. In size they may range from the height of an average wolf to that of a small horse. As for pelt color, they can come in any shade of the rainbow: midnight black, snowy white, forest green, blood-red, deep blue, pale violet, and any hue in between; their fur patterns and markings are also widely varied. Features are also as varied as any dragon`s--they may have back spines, wings, extra tails, horns, feathered crests, scales among their fur--every wolf is unique. Features and colors of pelt and eyes are usually inherited from one or both parents. Most wolves are of a middle height between the two extremes, and wings are not uncommon, though extra features such as horns and spines are rare.
Tactics;;As with many races such as humans and dragons, the personality of an individual differs from wolf to wolf--each one is different, with no set species alignment to good or evil.
Pack hierarchy is very different from the normal wolf's. At the top of the chain of command are the alphas, usually called different things depending on what pack they might be a part of; these two are generally a mated pair. Next in line is the beta, ranked second in command; their name (and whether or not they have a female counterpart) depends on the pack, and usually they oversee training of young wolves and organizing hunts. In the absence of both alphas, the beta leads the pack. Each pack also has a wolf known most often as the Seer or Shaman. Male or female, this pack member is possessed of the ability to See into the future or past in visions. Gifted Seers can also read and walk in dreams; they are valued for their wisdom and pass the stories of the pack down to the pups as part of their training. Other duties include advising the alphas as well as assisting expectant mothers during births. The Seer may choose to have a mate and pups if he or she wishes, though most remain single. Often, nursing mothers will hold a special place and rank in their packs. These wolves care for their own and each other's pups equally. Some she-wolves - especially if lame or otherwise unable to hunt or fight for themselves - choose to remain sothren and remain in the nursery to care for new arrivals. Finally, the warriors, often called the Elite or the Guard, are under the beta in authority; these few wolves, usually no more than two or three, are the most skillful hunters and fighters, usually the strongest wolves. These pack members and their familiars train the younger wolves once they are old enough.
Abilities;; The Vystrian wolf`s abilities differ from wolf to wolf and are as diverse as any dragon's. These abilities may range from magic to shapeshifting to overpowering reiatsu abiliy; most wolves can control an elemental power. Shapeshifting is rare but not unheard-of, and most can mindspeak. Vystrian wolves are as intelligent as a dragon, and they possess their own language as well as the ability to speak the common tongue. A wolf`s abilities will often by complemented by their familiar's.
Subspecies

Direwolf
Classification:
type of Vystrian wolf.
Location:
various regions.
The direwolf is a larger, more heavily muscled type of Vystrian wolf; they have bigger jaws, longer legs and can reach up to the size of an average horse. Most dires have primarily dark coloration with various accent colors that can range to any hue. These accent colors play the part of markings playing across the dark base; generally speaking, they can be anything ranging from white to red to gold to black and anything in-between. Rarely, a direwolf with a 'grey' gene will be born: black at birth, they grow to a lighter color with age, reaching their true coloration around the age of ten. Wings are another rarity, a mutation not often seen.
Abilities and powers generally focus around dark energy; the dark element, necromancy, acidic arts, black aura, etc. Other elements are less common, but also found, much like the Vystrian wolf. When pressed to the utter limit, they are able to go into a demon-like Tri'akun they use only as a last resort; though gifted with speed, power and ability in this rage, they are unable to control their actions and may do more harm than good. So much power is poured into their bodies that though they may kill their opponent, the sheer force often rips apart their own body, eighty percent of the time resulting in death to themselves.

Bloodwolf
Classification: demonic, hyena-like wolf. Location: originated in Evylon, but may be found abroad.
Like wraith upon the mist, the bloodwolf hunts in the deep of night from the shadows of caverns and the dark places of the world; it is a beast from Evylon's unexplored, untamable wilds, one who only recently ventured abroad. Said to be descended from a pack of Vystrian wolves who got caught mid-portal and thrown into a place of Evylon where good things cannot exist. They are large, some growing to heights rivaling even that of the great dire, with short, tufted ears and a ridge of spikes that varies by individual running the length of their back. With thick, muscular necks and chests, the bloodwolf more resembles a hyena than a wolf; they have massive jaws and long fangs, jagged, protruding from their lips. The use of their last defining feature is a favorite; to rip and shred with their long, hooked claws, or the sickle-sabres that curve upwards and over their paws in place of a regular wolf's dewclaw.
Exceptionally intelligent, the bloodwolves range in small packs consisting of ten to twenty members. One alpha, generally the strongest male, leads them. Forever-mates are unheard of in a bloodwolf clan, and in many situations, the alpha male will have a harem of females that he actively breeds; other males may be used as guards and fighters. Much like lions, the females do most of the hunting, and the males get first rights to every kill. Powers and abilities vary with each individual, as do colors and markings, though all are gifted with unnaturally powerful strength.

The Famine
Classification: undead wolf. Location: primarily Soulplane.
Essentially an undead Vystrian wolf, those corrupted by distress at being unable to find their pack in the Spirit Realm, the Famine retain a vague semblance of what they had been like in life with similar features and faded markings. As they undergo this change, however, their appearance also alters: ears take on an elongated, tattered look and their eyes shift position and split, with two more appearing at their ear tips. These extras allow the Famine to see behind them but the vision is limited to an x-ray like appearance, while their main eye - the one which appears where the original eye had been - detects infrared radiation. The final eye, located under and to the fore of the main, gives them exceptional night vision. Over time their eyes take on a faint glow which intensifies the longer they exist in this form, perhaps the only method to determine their age. Many also grow patches of longer, coarse hair, usually along the spine, tail and ankles, though the precise area and expanse varies between individuals. Any wounds they possessed before they became a Famine remain as do those they receive after the change, some healing to a point where they seem scar-like while others maintain the appearance of an open laceration.
The Famine are immune to aging and can be killed only by removing their head or in the same manner of their death if it was not natural. They are unable to consume normal food as anything which was once living turns to ash in their mouth; instead, they subsist on the energy of dead souls. Exclusively solitary creatures, they fear their old life and any reminders of it, eventually developing an intense hatred for anything related to their past and blaming their previous pack for the life they have been forced into as their memory fades and becomes corrupted. For this reason, those whose drienar follows them from the Soulplane often end up killing their companion. While Famine do not truly feel pain their mind creates a similar sensation to make up for the lack, though it is often far less intense than true pain. They are not capable of reproducing.
Due to their undead nature Famine are almost entirely disconnected from the elements and are only able harness ice, though with little strength. Their other magical abilities, however, can be extremely powerful, the most common being manipulation of light or darkness, healing, warping matter and occasionally even telekinesis. All Famine can summon ghosts into their presence and harness their reiatsu, as well as travel through the veil to other Realms due to a distortion their physical presence causes. The stronger individuals are also able to create other undead creatures through the use of spiritual energy, giving them a half-life in which they must eat, breath and sleep but exist on a similar level as the Famine itself.